In this article, we will explain and detail the central element of your DIY microphone construction, the capsule! We hope that this analysis will answer your questions on the subject and allow you to change your capsule or install it in the best conditions, but also see the different types and functions of the most common capsules! Let's get started!
The different types of capsules
At Mic & Mod, we sell 5 different types of capsules, they have a shape and a particularity that make them unique and that can't all fit on a particular mic, we will detail them here !
CK-12 CAPSULE TYPE
The CK-12 capsule originally designed for AKG's C12 model features a 34mm diameter dual diaphragm and a double backplate, with edge termination.
The CK-12 is popular for its smooth high-frequency response and present bass. It is recommended for use in most vocal microphones, such as the C12 and C414 from AKG.
This capsule is compatible with both cardioid and multi-pattern microphones.
K-47 CAPSULE TYPE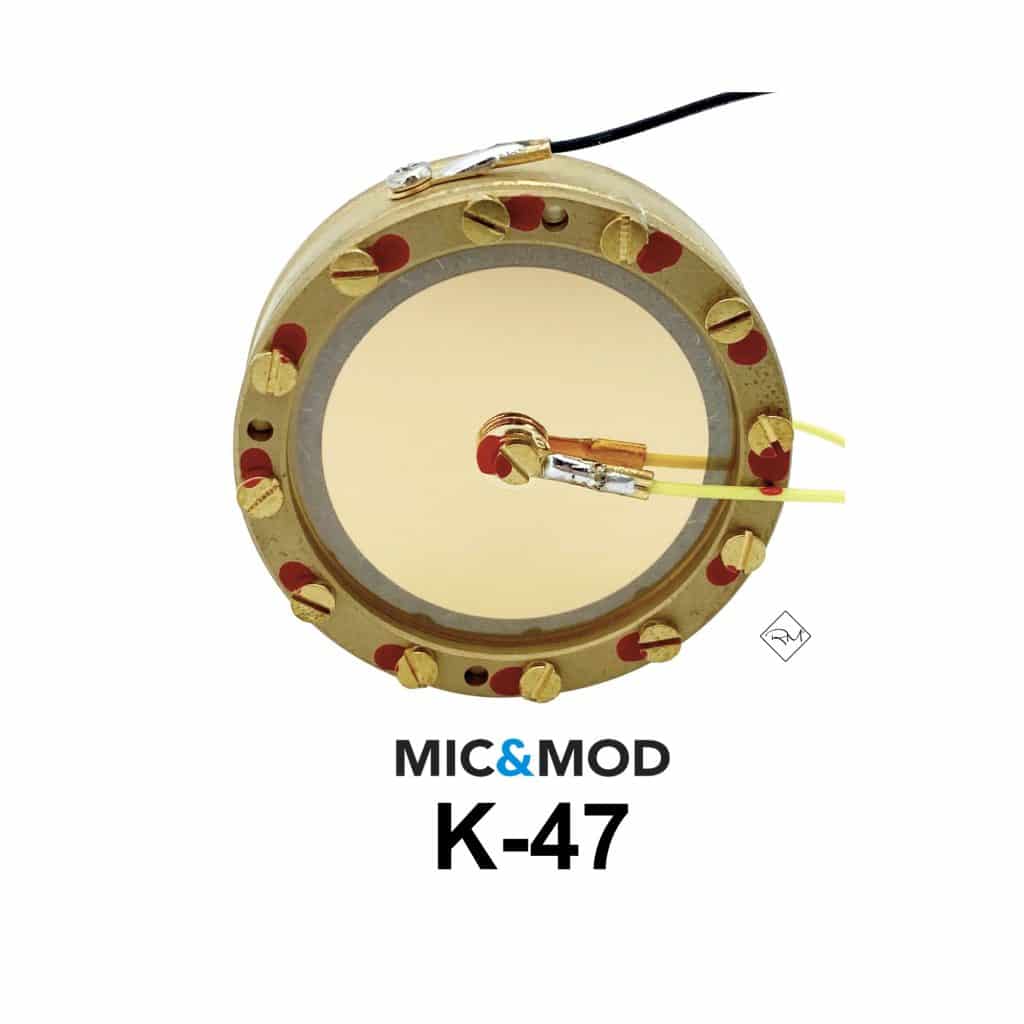 One of the most famous capsules is the Neumann K47, which is used in popular Neumann microphones such as the Neumann U47 or M49.
The main feature of this capsule is that it uses a single backplate with a central termination. Its design and clamping rings are made of hard brass, which is a high-quality material that will last a long time. It also has a dual-diaphragm in gold mylar (6microns) and is compatible with both cardioid and multi-pattern microphones.
This K47 capsule is also very famous for its "midrange" sound, it has a little lift in the musically important frequency range of 3-4 KHz and a smooth HF roll-off.
🔥THE BEST DIY CLONES MICROPHONES🔥

K-67 AND K-87 CAPSULE TYPE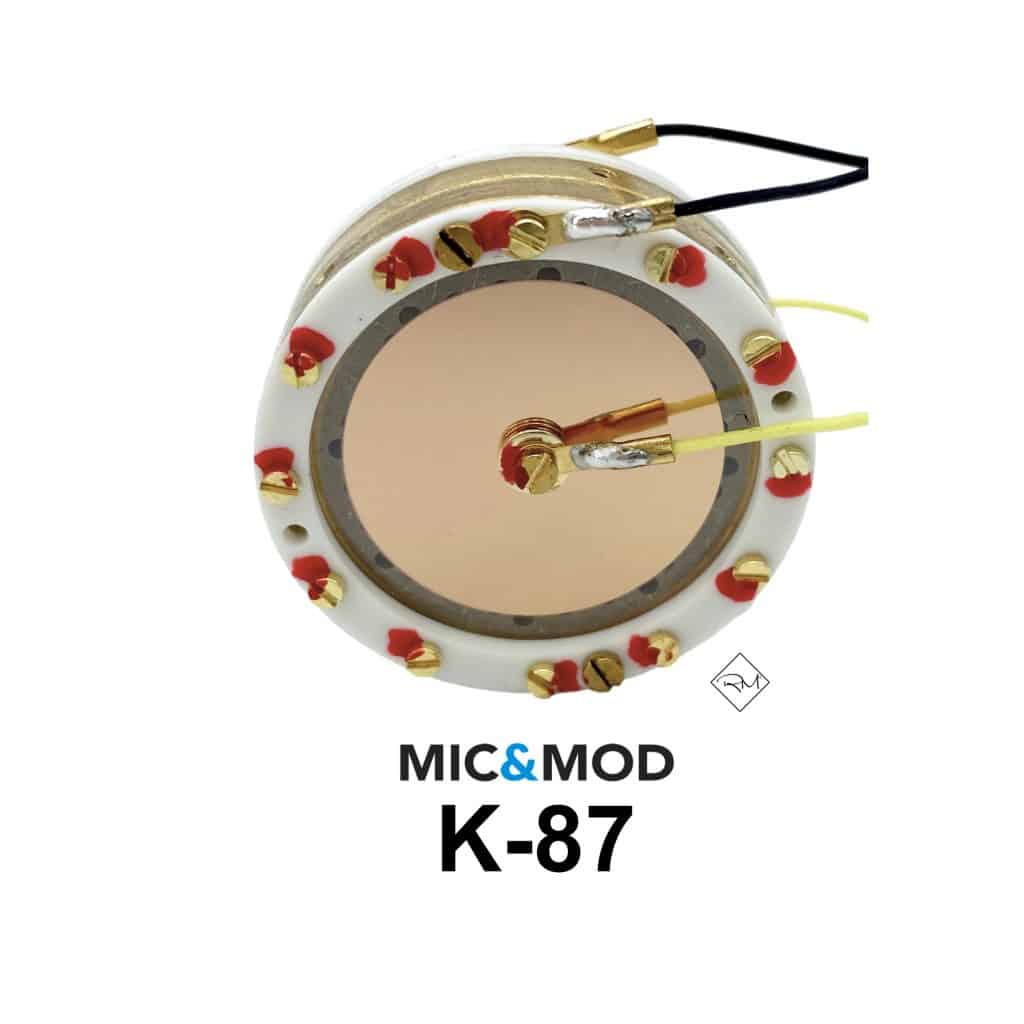 More popular capsules in different modes of the famous Neumann U67 and Neumann U87 are presented in a high-quality capsule made of brass materials with a standardized size of 34mm diameter, with a double brass bottom plate also with central termination. Its double diaphragm is covered by a German-made 6-micron gold mylar plate. The backplates are insulated (compatible with 4-wire pickups for the K-87).
These capsules are compatible with cardioid and multidirectional microphones.
At the sound level the capsules are very qualitative, the capsule K67 et K87 have a good and pretty 'flat' low-end and show the (desired) boost around 10 kHz.
These capsules work best in a circuit that provides a high-frequency corrective equalizer, but they can be used without an equalizer in the circuit when an upward frequency response is desired by its user.
These capsules are therefore bases for multi-directional microphones using specific modes such as figure-of-eight mode and different pattern settings.
M7 CAPSULE TYPE
The term M7 refers to a type of condenser microphone capsule originally manufactured in former East Germany. It was the first original capsule to equip the Neumann U-47 microphone.
The backplate of the M7 is 32 mm in diameter; the diameter of the suspended portion of the diaphragm is 25 mm. Both diaphragms are terminated in the center.
Neumann Germany stopped producing the M7 in 1958. This reissue is, therefore, a unique design to recover the vintage sound of this capsule.
This capsule is popular in the vintage microphone community because it is the original capsule from the great Neumann era of the 1950s. Today it is rather difficult to find on the market because it is complex to produce.
On the sound level, it is a little below the K-47, it has a rather constant and neutral curve with peaks on the frequencies at 4Khz and 12 Khz, as Neumann had conceived it at the time of its creation.
Its first version was made of plastic and paper membrane, very fragile and with a bad lifespan, this problem is now corrected thanks to the use of much more resistant materials such as mylar, it also has the particularity of using a capsule holder which gives it good stability.
🔥THE BEST DIY CLONES MICROPHONES🔥

Lexical analysis of the capsule
The capsule is the essential element of your microphone, it is through this part that the sound emitted by your voice or instrument will be reflected to obtain a digitized sound. But do you know exactly what makes up a capsule? Here are some answers about 3 of our capsules >> CK12, K47 and K87
Now you have all the information you need to know about the capsule as a whole, you can look for the one that best fits your microphone, if you have any doubts, don't hesitate to contact Mic&Mod or the discord forum in the specific capsule room!